Hotel Entners am See.
A place of positive energy between the mountains & the lake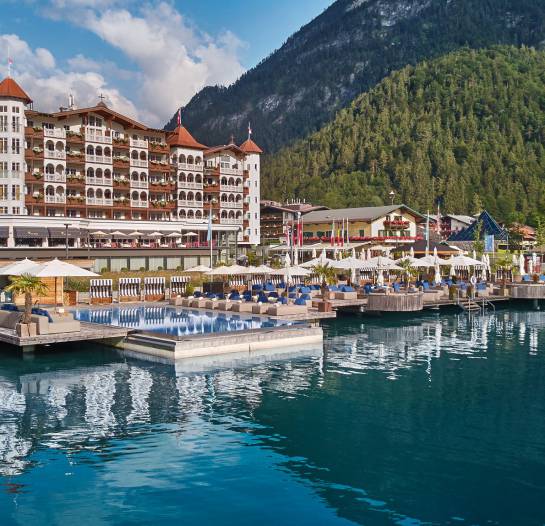 The hotel in the best location on the lake
Entners am See awaits you in a prime location in Pertisau, Tyrol. Entners is located on the emerald green Lake Achensee directly on the promenade. Proud of its tradition and local roots. It loves to open up breathtaking views: through floor-length windows, from balconies and the panoramic terrace.  With its lakeside pier with infinity pool, lakeside spa, and beach bar, Entners Strandbar, Entners am See invites you to savor a first-class holiday. 
The place to be at Lake Achensee in Austria
The location, the lakeside pier: The Hotel Entners am See in Austria is a feel-good happy place. In summer, the hotel's wildflower meadow will enchant you. In winter, fire bowls blaze next to the infinity pool on the lake. Inside you will find modern comfort and spacious feel-good charm. Blind dates await you in the library. Fine drinks at the bar. And designer comfort in the rooms.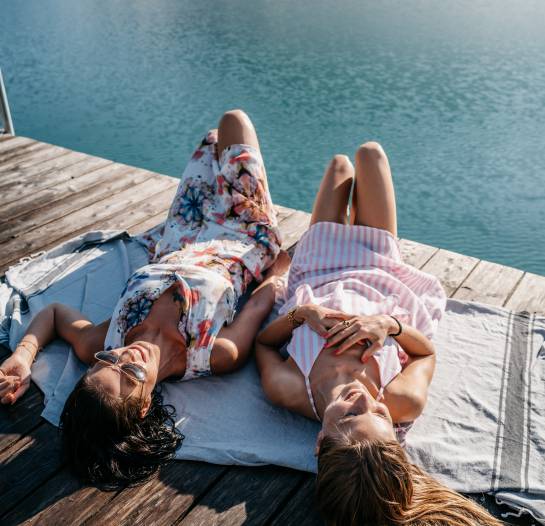 Entners' Philosophy
Everything is possible. Nothing is obligatory. That's exactly what the Entners is made for. A place dedicated to diversity. Favorite places, open spaces, and a wide range of activities, enjoyment, and relaxation. For every season and every occasion.  Casual. Stylish. Individual.
My holiday home at the lake
Entners: Family. History. Lake Achensee.
A family's life work
A hotel as a family heritage is a great responsibility. And also a great fortune. Provided that, like Martina Entner, you love Lake Achensee, the mountains, Pertisau - and the Entners. How could you not?
Martina Entner has been running the hotel together with her partner Walter Wörndle in the 3rd generation since 2010. It was built in 1954 by grandfather Josef Entner, continued and developed by father Josef Entner, and raised to a 4* superior level by Martina Entner and Walter Wörndle. And the two are already busy making plans to create even more happy places at the Entners. Let us surprise you!
Sustainability & regional bonds
Without nature, everything would be nothing. Without nature, Hotel Entners would not exist - as a special place of power and relaxation in Pertisau on Lake Achensee in Austria. Sustainability has long been a priority in the entire region around Lake Achensee. As early as 1928, the forerunner of today's Karwendel Nature Park was founded, making it the oldest protected area in Tyrol. In 2020, by the way, it was elected Austrian Nature Park of the Year.
What we do:
Heating sourced 100 % from a groundwater heat pump
Food from regional farmers: Milk, eggs, cheese, yogurt, butter, bread and pastries, seasonal vegetables and fruit, meat (partially)
Char and trout are caught daily in Lake Achensee
Wildflower meadow at the hotel
2 car charging stations
(E-)Bikes and e-golf carts at the Hotel
Stay informed
Entners quick links