An active holiday at Lake Achensee
Active.
Multifaceted.
One-of-a-kind.
Crystal-clear, emerald-green, glittering water. Gently embraced by a one-of-a-kind mountain panorama. Hike up the mountain or ski down the slopes. Exceptional any time of the year. At an altitude of 929 m above sea level – nestled between the Rofan and Karwendel mountain –, the Lake Achensee region ensures spectacular natural experiences in summer and winter and offers a unique setting for active and sporting recreation. Welcome to the natural jewel of Lake Achensee for your dreamy active holiday.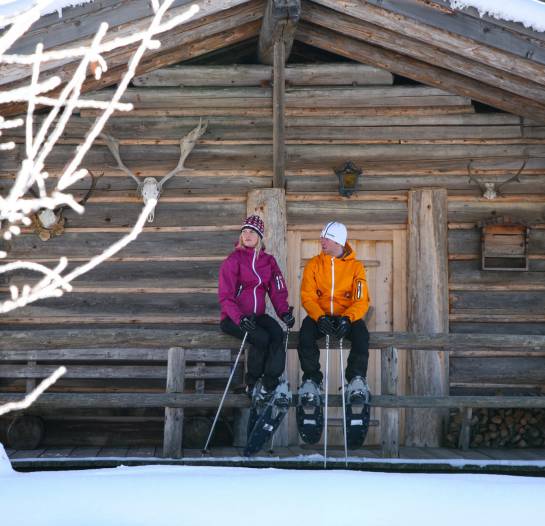 Get active between the mountains and lake
Explore and feel the great outdoors. Between heaven and lake.
Alpine moments of happiness that will intoxicate, inspire, and exhilarate you: on your active vacation at Lake Achensee in Tyrol, these moments spread out endlessly before you. Seize them! In summer, when Lake Achensee turns into one glittering sea and the mountains glow in the sunset every evening. In winter, when mountains & valley become a winter sports paradise beyond compare. Do what you love during your active holiday at Lake Achensee. Become part of a grandiose natural spectacle.
A unique diversity of experiences between mountain peaks & Lake Achensee
As a guest at the Sporthotel Entners am See you are in the midst of a lake & mountain paradise of unlimited possibilities. Swimming, yoga on the lake, kiting, sailing, golfing, climbing, biking, stand-up paddling, alpine skiing, cross-country skiing, paragliding ... everything your heart desires is possible. In summer as well as in winter. Create your individual active vacation in Tyrol – at Lake Achensee, in the Karwendel and Rofan mountains! Discover the magnificent variety of experiences that the lake, the mountains, the seasons, and Hotel Entners conjure up together.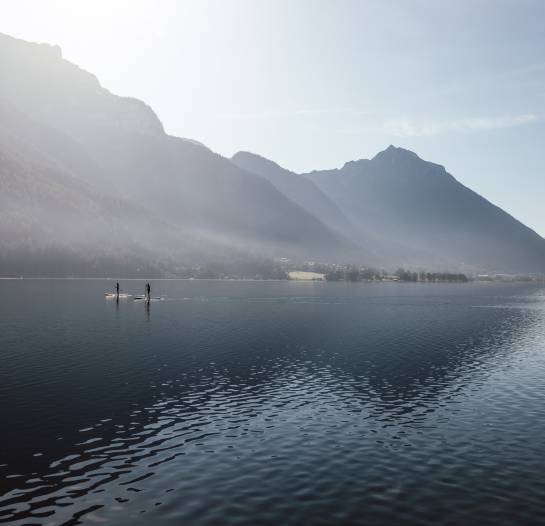 Entners Rental Service
Electric boats, Vespsa, stand-up paddling boards, skis, bikes, and much more. With our in-house rental service there are no limits to your holiday experience.
My summer paradise at the Lake
Sommer Fun & Sports at Lake Achensee
After sunrise, the quietly sparkling Lake Achensee in the midst of the Tyrolean mountains transforms into a paradise of sporting pleasure. And it is exactly here, on the shores of Lake Achensee, that your Sporthotel Entners awaits you for a first-class summer holiday. Full of great opportunities and personal touches. In the balance that nature gives us. And with a box seat directly on the lake: the Entners See Spa.
Summer activities at a glance
Activities at Lake Achensee
Summer holidays
Welcome to the paradise of unlimited leisure possibilities. Live your passions. Enjoy mountains and lake, sun and summer feelings in your vacation at Entners exactly the way you want to. Summer vacation the way you love it.
SPORTY. ALPINE. BREATHTAKING. ENTNERS MOVES.
What a moving holiday between the lake and the mountains ... With sensational leisure opportunities and full of emotion! With the first-class sports service from Hotel Entners, including rental service and active program, fitness and exercise are even more fun. 
My piste magic at the lake
Winter fun at Lake Achensee
There is winter and then there is winter at Lake Achensee. A winter for an active holiday in Tyrol entirely completely characterized by the elements. Sporty. Alpine. Breathtaking. Full of joie de vivre. And with countless panoramic moments. Rock the slopes or hike through a fairytale world shrouded in white and all to yourself. Discover pristine landscapes on snowshoes or glide along, through your winter dreams, cross-country skiing at Lake Achensee.
Winter activities at a glance
Aktivities at Lake Achensee
Winter vacation
Welcome to the paradise of unlimited leisure possibilities. Live your passions. Enjoy mountains and lake, snow and winter feelings on your holiday at Entners exactly the way you want to. Winter vacation the way you love it.
SPORT WÖRNDLE - OUR HOTEL SPORTS STORE
Our hotel's own sports store makes it possible for you to conquer the lake and mountains with the latest high-quality equipment. Leave your bike and skis at home and experience a new lightness on holiday. Great sports equipment, top service, 10% discount, and great courses for even more competence in leisure fun: This is the magic formula for an unforgettable vacation at Lake Achensee dedicated to sports & movement in the beautiful outdoors.
Have fun. Stay fit. Take part.
Entners world of sports
An active holiday at Hotel Entners. A mountain bike tour today, a tour with the standup paddle board on Lake Achensee tomorrow, an alpine hike the day after. And in winter skiing, cross-country skiing, winter hiking. Discover the whole world of sports with our offers.