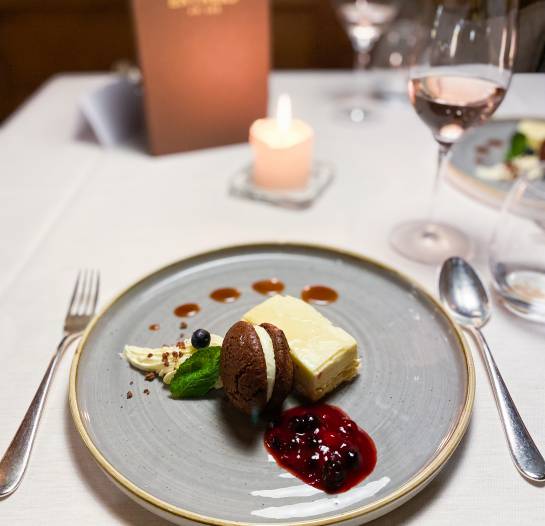 Entners Inclusive Cuisine &
Dine-Around experience
Culinary delights at Lake Achensee
Culinary highlights, variety, and a beautiful panorama come together to offer a one-of-a-kind dining experience with  Entners INCLUSIVE cuisine. For gourmets with a desire for culinary freedom, we have created the Entners Dine-Around experience: Discover the entire culinary world that Entners has to offer at your favorite spots indoors and on our breathtakingly beautiful lakeside pier. 
Entners Inclusive Cuisine
In the morning: abundant late riser breakfast from the buffet (from 7:30 to 11:00 am)
In summer: Sweet Corner – Homemade pastries from our patisserie and seasonal fruit (2:00 to 4:00 pm)
In winter: Hearty snack with warm dishes and delicacies from our patisserie (2:00 to 4:00 pm)
In the evening: exquisite multi-course gourmet dinner with international specialties (6:30 to 9:30 pm)
Or would you prefer an individual choice? Thanks to our dine-around concept you can experience the full variety of our culinary offerings. Dine á la carte in one of our restaurants and we'll reimburse you €10/per person for the unclaimed evening meal. 
Breakfast - the perfect start to your day
A relaxing vacation day starts with the right breakfast. And here at Enters, that consists of delicacies. With seasonal fruits, freshly baked bread and crispy rolls, eggs from happy Tyrolean chickens, cheese, yogurt, and butter from surrounding mountain pastures, and with real Tyrolean bacon from local farmers ... help yourself to hearty, vitamin-rich, and sweet items from the buffet. Whether hotel restaurant, panoramic terrace, or lounge with an unobstructed view of the lake – you can choose your personal breakfast happy place.
The Evening Meal at Entners - The crowning glory of the evening
A daily changing evening menu that appeals to all the senses, made with excellent ingredients from selected suppliers, with lovingly prepared dishes to choose from. Whether meat, fish, or vegetarian. Whether Austrian or international. A culinary star of the regional cuisine is always present in any case. And in addition, the view of the lake and mountains. With Entners INKLUSIVE board you can't go wrong. A culinary experience - enjoyable and agreeable at the same time.
For all those who still feel like a different setting, a different kind of cuisine on certain evenings, we have created the Entners Dine Around experience. So you can also dine in our Tyrolean Wirtshaus, in the Mediterranean beach bar, or in the sophisticated Achensee Stube to round off your day.
Dine Around at Entners am See – Night for night a new culinary special
To make your vacation as varied as possible, we offer you several restaurants to choose from. As part of our Dine Around concept, a different culinary experience awaits you night after night at a different location: in the elegant hotel restaurant, on the panorama terrace, at the beach bar directly on the lake, in our traditional Tyrolean inn, in the charming Achensee Stube, or in winter in our Tyrolean Stube. Despite our included gourmet board, our house guests are free to choose what and where they eat for dinner - whether a Hawaiian Poke Bowl in the beach bar, a hearty Tyrolean Gröstl in the Wirtshaus, or a delicate Chateaubriand in our Achensee Stube.
We will of course reimburse you for the included menu that you forego. We will credit you €10 per person for the unclaimed evening menu.
Stay informed
Entners quick links